Rejoice Wallpaper
---
Want FREE Shipping?

Snag 3+ irresistible wallpaper panels or 5+ eye-catching samples, and you'll unlock free worldwide shipping. Wave bye-bye to the $18 shipping fee! It's all auto-magically applied at checkout, so you won't have to lift a finger.
Gift Card

From loved ones to co-workers and everyone in between, a Huggleberry Hill gift card is a click away. Tap here to gift the extraordinary today!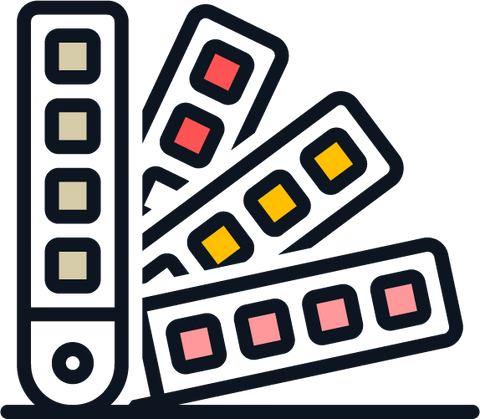 Trendsetter
Designs
Non-Toxic &
Recyclable
Sustainable &
Eco-Kind
Women
Owned
Luxury, matte woven finish
Straight match - easy installation
Easy self-adhesive application
Repositionable within 24 hours
Removable in one piece
No shrinkage over time (no overlap needed)
Can be applied to lightly textured walls
Can be cleaned with a damp cloth
OEKO-TEX© certified
PVC-free
Sustainably made using post-consumer materials
Odourless water-based inks
Can be used in bathrooms and kitchens
Exclusive hand-illustrated designs
Designed in the USA
Printed to order in Europe
Colour matching between separate orders cannot be guaranteed. We recommend using the Wallpaper Calculator below to calculate the number of panels you require. Alternatively, feel free to contact us for advice.
In a busy home, practical solutions to life's little challenges become essential. With our peel-and-stick application wallpapers, keeping your walls spotless is a breeze. All you need is a damp cloth or a sponge to wipe away stains, handprints, or the occasional crayon mark.
Learn more with our Installation & Care Guide
Printed-to-Order: Wallpaper sample and panel orders are sent to production immediately and all sales are final.
Our shipping and returns policy ensures hassle-free shopping satisfaction. View our Shipping & Returns Policy here.
We've compiled a list of the most frequently asked questions about our wallpaper. View FAQs
If you still can't find the answer you're looking for, feel free to contact us.
Hanging Above The Rest: Unroll the Best
EasyOn, EasyGone: Wall Mastery
Upgrade your walls effortlessly with our luxe, easy-apply, easy-remove fabric-like textured wallpaper. Pure premium playfulness.
Kind To The Planet, Safe For The Home
Unveil your designer side with our premium, all-space-friendly peel-and-stick wallpaper. Even kitchens and bathrooms can get a playful makeover!
Distinctive Designs With Timeless Touches
Meet our founders, experts in blending top-quality craftsmanship with stylish flair, where innovation and playfulness redefine your space.
Kind to The Planet, Safe For Yor Family
Easy to love, even easier to apply. Huggleberry Hill wallpapers bring sustainable style and family-friendly flair to your walls. Values meet vibrancy for a home that truly shines!
How To
Installation & Removal
Transform any surface with our versatile peel-and-stick wallpaper, perfect for walls, furniture, and even crafts. For flawless results, check out our Installation and Removal Guide.
Keep It Fresh
Keep your home effortlessly chic with Huggleberry Hill's easy-to-clean, peel-and-stick wallpapers. A simple wipe is all it takes to erase life's little messes. Check out our Care Guide for more details.